Click above on category for additional information on that subject
Text Miss Marcy: 941-266-5847 or email: apreludetotheclassics@yahoo.com
Top Rated Piano Lessons for Preschool & K1, Kids & Teens
Specializing in Gifted Students and the Twice Exceptional Student on the Spectrum:
Autism, Asperger Syndrome, Einstein Syndrome, ADHD, Dyslexia, ADD, Oppositional Defiant Behavior
* All Levels * Classical Piano Competitions * Kids Rock Bands *Tutoring for Auditions & College EntryGroup Specialty Classes and Private Lessons
Sarasota: 1920 Vintage Studio (between corner Bee Ridge & Tuttle)
Boca Raton: On Stage Studios (Clint Moore between Congress & Military)
Florida Atlantic University - Professional Tutor in the for Music Theory & Applied Piano
Shalom Preschool - Music Director
Top Credentials: Graduate NYU School of Performing Arts & Hartt College of Music Piano Performance and Music Management


Top Rated Piano and Music Studio
Miss Marcy, Director, Piano Teacher, Faculty, FAU, Boca Raton and Sarasota
]Miss Marcy congratulates Madi on her Silver Award in the NY Franz Schubert International Music Competition on solo piano!!!]
Madi began lessons with Miss Marcy at the age of 6
Link to competition: https://www.nyschubert.com/ (scroll for list of winners) Copy & paste link below, opening new window, to view performance: https://vimeo.com/364426122?ref=em-share
17 year old student performing for International Competition - SILVER AWARD WINNER!!!!
Student performing in competition age 6
9 1/2. year old student performing for international competition.
Student age 6 1/2 performing in international competition
9 year old student competing in international competition.
The Child Prodigy Series for PreSchool and K-1: Program ages 2-6
Just
Opened in Boca! Waitlisted in Sarasota!!
Wednesdays 6:15-6:45 at Boca Raton Studio
The Child Prodigy Series ("CPS" ™) is a nurturing and instructional music program that is geared toward preschoolers, ages 2-6. The program provides an early start to note reading, rhythm, and playing the piano. The program fosters the ability to easily segue into private instruction on the piano, vocal, guitar, or drums.
The Child Prodigy Series ("CPS") is a weekly, 30 minute, educational and nurturing program, with a student- teacher ratio of 6: 1. The program is structured, and learning activities flow smoothly, encouraging and enabling the attention and focus of the students. The facility is a large, colorful, upbeat and playful room, which hosts 6 colorful, 'kids-sized' baby grand pianos. The students learn to read notes, play the piano, and use the Dalcroze Eurthymics method for learning tempos and rhythm, using a plethora of percussion instruments and body movement. An electric keyboard is played by the instructor, introducing a variety of musical sounds, played to the same song, enabling the student to learn to differentiate different timbres (timbre distinguishes different types of sound production, such as string, woodwind, and brass instruments). The program runs throughout the year, and parents sign up for one month at a time, with no limit for continuing in the program. Spots are limited, so early sign up is encouraged.
Text Miss Marcy: 941-266-5847 or email: apreludetotheclassics@yahoo.com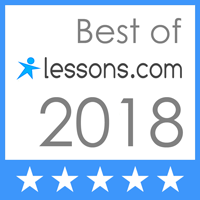 Congratulations Miss Marcy!!!
I'm excited to announce that Miss Marcy has been named Best of Lessons.com
Online lessons available: Skype, What's App, Facetime, Google Hangout
Lessons.com looked at dozens of other professionals in the County, and scored Miss Marcy on more than 10 variables, and hand-picked Miss Marcy to be part of the program. This is no small feat. In fact, the Best of Lessons.com pros make up less than six percent of all Lessons.com professionals.
Miss Marcy has been selected to become a Co-Founder and Partner for the New York Franz Schubert International Music Competition. She was selected based on her influence as a music instructor within the Florida region.
Winners will perform at the acclaimed Foley Gallery of contemporary art in Manhattan, New York City, in December, 2019.
Madison Wenum won the Silver Award! Congratulations Madi!!
100 percent of the students are academically gifted (attend Pineview School for the Gifted in Sarasota, and IB and AP Programs in Sarasota and Boca Raton). This is NOT a requirement for admission to the Academy. Many of the students are on the Spectrum, with learning disabilities (ADHD, Autism, Einstein Syndrome, Dyslexia and Asperger's). ALL students are welcome.
High School students applying to college: ( freshman, sophomore, junior or senior year) complete package including selection of audition songs for vocal and/or piano performance majors, music therapy, music education and music management (music and an MBA) . Includes rehearsals for auditions and tapes for submission, accompanying of performance on tape, writing of essay, completion of application, recommendation.
Miss Marcy specializes in advanced and customized techniques for rapidly learning to play the piano, focusing on technique, theory, note reading, and repertoire. Students compete within their first year in Regional and International Competitions, and attend group classes, in addition to their private lessons, teaching advanced music theory. Children are also eligible to participate in the studio's recitals twice per year, which includes kids' musicals productions. Miss Marcy also specializes in supporting children on the Spectrum. She has shown proven success with mainstreaming these students through her unique teaching methods that address and drive the children's cognitive abilities.
Piano is proven to assist in the development and improvement of language, communication, behavior, and social skills for highly intelligent and talented children who are on the Spectrum with Autism, ADD, ADHD, Dyslexia, and other learning challenges. Research has shown that when autistic children interact with music, and most specifically piano, on a regular basis, their cognitive abilities are enhanced.
The piano assists in the higher level development of advanced brain and social abilities, based on the numerous patterns, analytics, memorization, repetition, and emotions associated with learning to play the piano, especially at the advanced levels. Further, playing the piano, for these gifted children, aids in relieving, or reducing the anxiety associated with their challenges, and can provide valuable support in unlocking their true potential, both musically and intellectually.
Types of Musical Instruction for Pre K - Adult
Private (Pre K to Adult) Group (Pre K to Adult), Individual Tutoring, Skype and Google Hangout.
Piano, Music Theory, Orchestration,Technique, Repertoire, Note Reading, Audition Training, Tutoring
Click on link for prior performance
Click on link for video from additional performance
Click on tab above "videos from prior performances" for additional videos
Link to 12 year old student, playing 4 years with Miss Marcy, classical competition student, rock student, drums, keyboard, piano, bass, guitar, vocal, sax, bassoon playing Piano Man by Billy Joel : https://www.youtube.com/watch?v=cIWvyaFGYoI&feature=youtu.be
Private lessons: Ages 2 to adult. Students may pick one, two or three times per week. All levels - Beginner to Advanced. Gifted and learning disabled welcome. Unique, customized approach for a fast start. Genres: Classical, Rock, Easy Listening, Jazz Improvisation, Holiday, Broadway Themes, Rhythm and Blues, Ragtime. Note Reading, Music Composition, Sight Reading, Theory, Technique, Ear Training, Orchestration/Instrumentation and Performance.
Sarasota lessons: Mondays 6 am - 8:30 pm and weekends by appointment.
Boca Raton lessons: Wednesdays 12:30 pm - 9pm, Thursdays 2pm - 9pm, Fridays and weekends by appointment.
Private lessons (in person, or skype): 30, 45, 60, 90 and 120 minute lessons 1,2 or 3x per week: $50+.Tuition is paid monthly at the beginning of the month.
Learning Disabled Students and on the spectrum: Ages 2 +. Many of Miss Marcy's students have learning disabilities including Autism, Aspergers, Einstein Syndrome, ADD, ADHD and Dyslexia. All of these students have high IQ levels. Lessons are structured on an individualized basis to work with mainstreaming these students into traditional school curriculums whenever possible. In addition to Piano, and vocal, Miss Marcy often assists with homeschooling students in Language Arts.
Note Bee Class: Sarasota studio: Mondays 5:15-5:45 pm. Boca Raton: Thursdays 5:30-6 pm. Maximum 8 students. $100 per month. Kids favorite class! Ages 4-12. Students learn to read music fluently in a fun and competitive environment utilizing a series of techniques including computer programs (kahoot it used in many schools and universities) with "jeopardy" style quizes created by Miss Marcy for various levels as well as whiteboard and other venues to develop fast note reading and music theory for enhancing the ability to rapidly play the piano. Kids learn advanced techniques in note reading, keyboard identification of notes, key signatures, time signatures, note values and advanced level music theory in a fun competitive environment.
Music Company - Rock and Roll Bands for Elementary and Teen students. Students perform throughout the year on keyboard, vocals with harmonization, drums, bass, guitar and percussion. Music includes: Classic Rock, Jazz Fusion, Broadway Musicals, Broadway Blues, and other themes. Senior Company: Advanced students ages 10 to adult, Junior Music Company: Beginning students to Intermediate Ages 5 - 11. $100 per month.
The Child Prodigy Series - a 30 minute group class for ages 2 -5 that teaches students to play the piano at a very early age. Children learn to read musical notes and clefs, learn hand and fingering positions, and will perform at a recital on the piano. The class is structured and interactive, encouraging imagination with a nurturing environment. The children learn to play on kids sizzle pink and red baby grand pianos. NEW to Boca Raton and waitlisted every semester for 9 years in Sarasota! Wednesdays 1:45 and 6:15 PM.
Students from both studios, Sarasota and Boca Raton perform twice per year. Students may attend one or both performances in either or both locations. Boca Raton students perform at Steinway on Federal Highway in Boca Raton, and Sarasota Students perform in the Ballroom at TPC Prestancia in Sarasota on Palmer Ranch Parkway. Performances are generally in December and April. Piano Competitions are held in April, same locations, with certificates distributed for academic school records, and trophies.
Note: Closer to the performances Jr. and Sr. Company will rehearse longer and more frequently at no extra charge.
Locations: Miss Marcy Director, teaches Private and Group lessons in the Sarasota Studio on Mondays and Tuesdays 6AM until 9:30 PM and Wednesdays 6am - 8 am, and Weekends by appointment in the centrally located studio by the Bee Ridge/Tuttle vicinity in a newly renovated "Funky Vintage" 1920's Studio. Miss Marcy teaches in the Sarasota on Mondays private lessons and Note Bee Class. She teaches in the Boca Raton Studio located in On Stage Studios on Clintmore between Congress and Military in Boca Raton on Wednesdays and Thursdays from 12:30 - 9pm and Fridays ans weekends by appointment. Miss Marcy teaches at Florida Atlantic University on Thursdays and Fridays 8am -12 PM.
Skype, google hangout, facetime, and what's app lessons are available throughout the week and weekend, by appointment, and are a convenient way to take lessons, as well as multiple lessons per week.
Credentials: Miss Marcy maintains her Bachelors Degree in Piano Performance and Music Management, and her Masters in Business Administration Degree with a concentration in Organizational Behavior from New York University, Hartt College of Music, and Barney School of Business, and attended Concord Law School in the Executive Juris Doctor Program and Harvard for the Investment Banking Program. Miss Marcy teaches as a Professional Tutor in the Center for Learning and Student Success for Florida Atlantic University in the Music Department for Applied Piano and Graduate and Undergraduate Music Theory. She also teaches as a Professional Writing Consultant for the University. Miss Marcy has been a Chairperson for FINRA, judging Investment Arbitrations, since 2002,is an Expert Witness for the Investment Field with Reuters, and a Managing Principal. Miss Marcy performed as a Classical Pianist throughout Metro NYC. She accompanied the New Jersey School of Ballet and was a student teacher at The New York City High School Of Performing Arts, (site for the movie FAME). Miss Marcy works with students who are interested in performing as a career in music, students who want to double major in piano and other majors (Pre-Med, Pre-Law, Engineering, Business Management) students who desire to own or direct a Music Studio (Miss Marcy instructs students on the management and business organization of establishing and directing a music studio) and equally enjoys working with students who play music for fun!
Click to view video of Performance
Link to article published about Marcy Gilroy, The Director and Founder. Click below:
Click To View Performance on You Tube
Click to view prior performance
Click here to view performance
Link to Video of the Academy's performance
Link to article published about Marcy Gilroy, The Director and Founder. Click below:
You Tube of Miss Marcy playing the piano for The Sarasota Observer. Scroll to the bottom of the article:
View Videos Of Classical Competition Students
and Music Company Students Performing:
Student performing with Music Company
Finding an instructor for an adult with piano experience has not been an easy task. Throughout the years I tried several teachers who were not able to motivate or extend my skills. Then I met Marcy Gilroy. From the first lesson I felt excited by her teaching methods. Marcy used appropriated materials and techniques to review finger exercises. Her love for music was evident when she recommended new pieces and impressed me by playing them beautifully. I was appreciative that Marcy respected my musical influences and asked me for input when choosing new pieces to play. She was everything I had looked for in a teacher. Marcy was extremely accomplished, supportive, and encouraging. But, most importantly, Marcy knew how to effectively extend my skills. After a few months of lessons I was playing better than I ever have. This has given me great pleasure along with a sense of wonder by how much I had achieved in a short period of time. I highly recommend Marcy Gilroy's teaching style and expertise to any musical adult who dreams of playing the piano well. Adult student Eileen Klein 9 years of previous piano lessons. Degrees in Education and English. Boca Raton.
Ms. Marcy has been, hands down, the best music instructor our daughter Amanda has had. Amanda came to Marcy just six months ago with five years of piano lessons under her belt. Unfortunately she could read very little music, but had near perfect pitch. Marcy promised us that in less than one year she would be able to read all her notes and be able to play any composition she chose. In the short time our daughter has been with A Prelude to the Classics, she has far exceeded our expectations and is on her way to becoming an accomplished piano player – all thanks to Ms. Marcy who understands her students and creates an environment where the student loves to learn and can't wait until their next lesson. Thank you for all you do! Shana (mother of 13 year old student) Sarasota
"Marcy, Thank you so much for your devotion and support with teaching the
A Prelude to the Classics is a music studio that is beyond compare. My 13 year old son has been playing with Marcy for five years and was given a full scholarship for the summer music program at the renowned Interlochen Music Camp and was at the top of the class. Marcy is not only talented herself, but she has a natural way with people. Marcy knows how to read people and speak to their personal abilities. My son is very intelligent, but she can communicate with him in ways that I cannot. She knows how to "reign people in", and always keep it fun! When you cone to one of her lessons, her students always have a smile on their faces! Joining A Prelude to the Classics with without a doubt one of the best decisions we have ever made. We continue to watch our son flourish while he is having a ball!"
Joanna LaRussa - Sarasota
Miss Marcy as appeared in Herald Tribune Article
"Learning to play music was on my "bucket list", so for my 60th birthday I bought a keyboard. I started with the Easy Play method, but found progress slowly. After just 3 months of lessons with Marcy, I can read music and play scales, along with a wide range of chords. I now have the fundamentals needed to make real progress. Marcy likes to challenge her students to move forward, but provides ample encouragement. She makes learning fun, and is highly effective for students of all ages. " Sam Swope Sarasota
"Thank you for all of the lessons and TLC you have shown Devin. It has been a pleasure getting to know you and we look forward to many more years of working with you..." Ann (mother, 11 year old student) Boca Raton
"Thank you for all you do all year long! You have become part of our family, and we adore you!!" Ashley (mother, 3 year old student) Boca Raton
Miss Marcy with student performing
Miss Marcy with student performing
Miss Marcy with student performing



---

---